Mihajlovic in Nova Varos: Take care of Zlatar, don't let it be like Zlatibor
Tue, 10-22-2019 - 09:03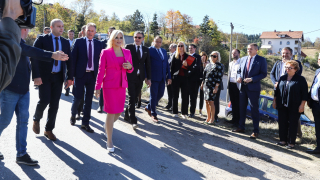 Deputy Prime Minister and Minister of Construction, Transport and Infrastructure, prof. Zorana Mihajlovic PhD., today visited the municipality of Nova Varos, together with the Minister of Youth and Sports, Vanja Udovicic, and discussed with the management of the municipality infrastructure projects and the promotion of gender equality.

Mihajlovic emphasized that 3.2 billion dinars have been invested in rehabilitation of road infrastructure in Zlatibor district in four years, and that this year and next year, about one billion dinars will be invested in road infrastructure maintenance in Nova Varos.
"In addition to roads, today we also discussed energy and municipal infrastructure in the area. My message to you is to keep Zlatar, not to be like Zlatibor. People of Zlatibor don't get angry, but Zlatar should be nicer than Zlatibor, should stay organized and bring in new tourists," she said.

Vanja Udovicic, Minister of Youth and Sports, said that the approach of ministries moving their offices to municipalities outside of Belgrade, characterizes this Government, which makes no distinction between small and large cities.
"We have exceptional cooperation with the municipality. We have established quality sports and youth infrastructure and renovated most sports fields. Our aim is to increase the sports capacities of the municipality in order to further develop sports tourism," said Udovicic.

Radosav Vasiljevic, Mayor of Nova Varos, thanked Deputy Prime Minister Mihajlovic, saying that the meeting was constructive and successful in order to create a modern and beautiful Nova Varos.
"Nova Varos is strategically committed to tourism development. This is not possible without the development of infrastructure and we have started to reconstruct and build more routes. First of all, the road from Branosevac to Zlatar, and next year the roundabout, the road from Spilovo to Ivanjica, Kokin Brod to Jarmovac, as well as Karadjordjeva street in the city," he said.

Krsto Janjusevic, state envoy from this area, thanked Deputy Prime Minister and Minister Udovicic for properly implementing the policies of the President of the Republic, Aleksandar Vucic, and the Government of Serbia.
"You are in the field with your associates and we are solving problems together. We are working hard on infrastructure to make Zlatar, Pribojska banja and Zlatibor a part of one tourist offer. We are also being met by Corridor 11, we do not wait with our hands crossed, but we ourselves create the conditions for a better future," Janjusevic said.

During her visit to Nova Varos, Deputy Prime Minister also attended the opening of the Gender Equality Office of this municipality.