Mihajlovic on the occasion of the International Women's Day
Thu, 03-07-2019 - 08:13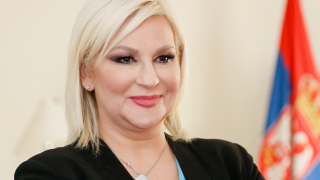 Dear citizens of Serbia,

 
In the wake of International Women's Day, we cannot but hear statements like "I do not celebrate March 8th, it's not my holiday". And I cannot blame women for that.
 
In a world of deeply entrenched patriarchal patterns that affect every society in which women are paid less for the same job, in which they put glass ceiling for career advancement, where they spend twice as much time on unpaid household tasks, in which their goals and ambitions are surrounded by gender stereotypes, in which they are most often victims of violence, how not to wonder where is the equality there and why should we mark the eighth of March.
I, myself, thinking as a teenager about that day, about pink and boxes of chocolate, I realized that I have to find the meaning for this holiday myself. And I looked for it everywhere - in Tolstoi's Karenina, in Desanka's verses, in my mother's embrace, in grandmother's strudels, in the buildings of Jelisaveta Nacic, in the accomplishments of Milunka Savic, in front of my mirror. And I'm sure the search will last as long as I live and as I fight for more rights and society with equal opportunities of women and men, girls and boys.
My dears, my message to you is not to renounce the struggle that some women have started in our name over a century ago. For those 15,000 women who marched in New York in 1908, demanding better wages, shorter working days and voting rights, for the sake of Draga Dejanovic who, in the middle of the 19th century, advocated the emancipation of women in this region, for Draga Ljocic, who devoted her life to an active struggle for a better position of women in Serbia and social equality, and who bravely and tirelessly fought against injustice and mischief just because of the fact that women, in the wake of the struggle of many unnamed women, about whom we will not and will not hear anything, who daily change their environment, living their lives. But, above all, do not give up on yourself for the sake of yourself and the new generation of girls that are coming.
This path is not easy, but you are not alone on it.
 
Respected Men, I invite you to join us, women, in this fight. There is no development of a society if all its members do not have equal opportunities for growth and development. And this is not a matter of charity, it is a matter of prosperity, developed economy and a modern community.
The message is clear - women were, are and should be bearers of change in a society that strives for greater gender equality. On March 8th, we celebrate women who built Serbia, because they have set the path to all of us who are fighting for a gender equitable society today. We should not give it up.