Mihajlovic at the opening of the largest wind farm in the Western Balkans
Fri, 10-11-2019 - 13:45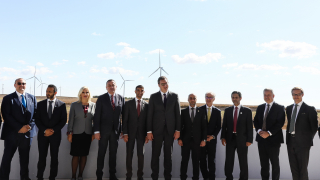 Deputy Prime Minister and Minister of Construction, Transport and Infrastructure, prof. Zorana Mihajlovic, PhD, attended the opening of the largest wind farm in Serbia and the Western Balkans today, "Cibuk 1" in Mramorak, in the municipality of Kovin. The opening was also attended by President of the Republic of Serbia, Aleksandar Vucic, Director of Masdar Company from the United Arab Emirates (UAE), who is one of the investors in this project, Mohamed Al Ramahi, as well as other high-ranking officials.
"I am pleased to see that the project started at the time when I was Minister of Energy was completed and that the share of renewable energy in the production of electricity in Serbia is increasing. This wind farm will produce enough energy to supply a city the size of Novi Sad. The project is also important for the conservation of the environment, our obligations as a member of the Energy Community, but also as an example to other investors that Serbia is a good place to invest, especially when it comes to modern technologies," Mihajlovic said.
"Cibuk 1" wind farm, with a total installed capacity of 158.46 megawatts, consists of 57 wind generators, with an individual nominal power of 2.78 megawatts, and the estimated value of the investment in its construction is 300 million euros.