Mihajlovic with Power China about the bypass and the construction of metro in Belgrade
Fri, 04-19-2019 - 15:29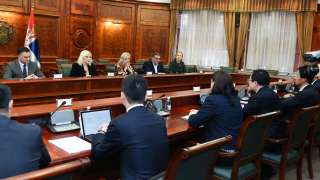 The continuation of the construction of the bypass around Belgrade and the forthcoming participation of the Serbian delegation, led by President Aleksandar Vucic, at "One Belt, One Way" Summit in Beijing, were the topics of today's meeting of the Serbian Deputy Prime Minister and Minister of Construction, Transport and Infrastructure, prof. Zorana Mihajlovic, with Ren Lizhi, Deputy Director General of the Chinese company "Power China Railways".
 
"We are pleased to cooperate with your company when it comes to building Section B bypass around Belgrade, and I expect that at the forthcoming summit in Beijing we sign a memorandum of understanding for continuing the construction of the bypass, or Sector C from Bubanj Potok to Pancevo," Mihajlovic said.
She pointed out that the construction of the bypass around Belgrade is of huge importance not only for the capital but for the whole of Serbia, as it will enable the Corridors 10 and 11 to be connected, but also contribute to the relocation of heavy transit traffic from the city center, increasing traffic safety and reducing pollution. 
The meeting also discussed the project of building a metro in Belgrade, for which the Government of Serbia and the Ministry of Construction will provide full support.
Ren Lizhi emphasized that he highly appreciates the trust and support that the Serbian government provides, and that they are convinced that both projects can be successfully realized, given the experience they have as a company.

 
"We are not only interested in these infrastructure projects, but we already have all the necessary know-how, experience and technology to carry out projects from the beginning to the end, from planning, designing, investing, to construction works," he said.