Mihajlovic with Power China: The value of joint projects is five billion euros
Thu, 11-07-2019 - 14:26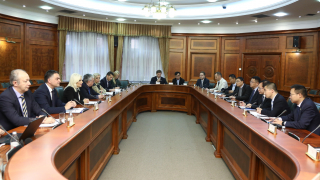 Deputy Prime Minister and Minister of Construction, Transport and Infrastructure, prof. Zorana Mihajlovic PhD., met today with a delegation of the Chinese company, Power China Railway Construction, led by Ren Lizhi, Vice President of the company, and discussed with them infrastructure projects that they are jointly implementing with the Ministry.

"Our cooperation is increasing and the value of the projects we are implementing together and which are planned is over five billion euros. We are glad that you are part of important projects in Serbia - construction of the bypass around Belgrade, Sava Bridge and the future Belgrade metro. I am pleased that we have also agreed on the Memorandum of Understanding for the design of the metro in Belgrade and that the conceptual design will begin soon," Mihajlovic said.

Ren Lizhi expressed his satisfaction with the continuation of the cooperation and pointed out that Power China is ready to contribute to further infrastructural development of Serbia, especially through the project of construction of Belgrade metro.

"Thank you for your support in the realization of all the projects we are working on together. After signing the Memorandum of Understanding, we will start drafting a preliminary design of Belgrade metro," he said.