Mihajlovic presented infrastructure events scheduled till the end of the year to the press
Wed, 12-11-2019 - 14:52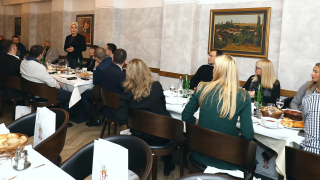 Deputy Prime Minister and Minister of Construction, Transport and Infrastructure, prof. Zorana Mihajlovic PhD, today at working breakfast presented to the press plans regarding infrastructure projects that are planned to be completed or commenced by the end of this year.

On Sunday, December 15th, beginning of construction works on Moravian corridor, ie Pojate-Preljina highway, which will directly connect more than 500.000 people in Central Serbia, will be marked near Krusevac.

A day later, a large multimedia exhibition will open in the Palace of Serbia, presenting ,in an innovative way, everything that has been done in the field of infrastructure in Serbia in the previous period. After the grand opening on Monday, it is planned for the exhibition to be open to public during that week.

On Wednesday, December 18th, 2019, sections of Highway Milos the Great, from Surcin to Obrenovac, 17.6 kilometers long, will be released for traffic. That way, there will be a total of 120 kilometers of highway from Surcin to Preljina.

Also, by the end of the year, it is planned to complete the works on two more projects: reconstruction of the section Smederevska Palanka - Velika Plana and completion of works on the construction of the Epsilon fork.