Mihajlovic presented new investment cycle in infrastructure to the Fiscal Council
Fri, 09-27-2019 - 12:29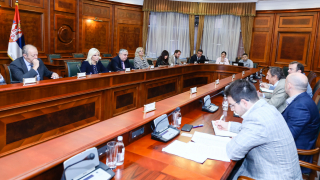 Deputy Prime Minister and Minister of Construction, Transport and Infrastructure, prof. Zorana Mihajlovic PhD, spoke today with representatives of the Fiscal Council about the new investment cycle and priority infrastructure projects in the field of transport.

Mihajlovic said that major investments in infrastructure started earlier this year, first and foremost, the Southern and Eastern fork of Road Corridor 10, are being completed this year, and that the Government has decided to start construction of new highways.

"The main criteria when deciding on projects was regional integration, as well as connecting Serbia from the inside, that is, the merging of the two main existing corridors. The biggest and most important projects that we are working on and where we will start works are Moravian Corridor, the first section of Belgrade-Sarajevo highway, from Sremska Raca to Kuzmin, then the section of the Highway Milos the Great from Preljina to Pozega, then Nis-Plocnik section highway and high speed highway Ruma-Sabac-Loznica, and also technical documentation for the new highway "Vozd Karadjordje" will be done," Mihajlovic said. She added that in addition to the construction of new highways, the rehabilitation of the existing network of state roads will be rehabilitated.
Speaking about the railway, Mihajlovic said that besides the construction of Belgrade-Budapest express railway, a contract has already been signed for the project of modernization, reconstruction and electrification of the Nis-Dimitrovgrad railway, with the construction of a bypass around Nis. "In addition, project - technical documentation is being prepared for the reconstruction of the remaining sections of Belgrade-Nis-Presevo railway line, we are also negotiating the procurement of new trains," Mihajlovic said, adding that significant results were also achieved in the railway reform in the previous period increasing the efficiency of railway companies.

They discussed, among other things, projects in water transport, first of all about modernization of the port infrastructure and ensuring navigability of Sava and Danube all year round, planned investments in three international airports in Belgrade, Nis and Kraljevo, as well as plans for the development of other small airports, as well as projects in communal and social infrastructure.
At the meeting plans for public investment within the Ministry's competencies, which are planned for the 2020 budget have also been discussed.

President of the Fiscal Council, Pavle Petrovic, noted that there is a mood and political will to increase public investment, which the Fiscal Council has been insisting on for years, which opens the possibility to make a qualitative step in the next 4-5 years according to this plan.