Mihajlovic with the President of the Chinese Railway: High-speed railway line to Stara Pazova in March, to Novi Sad in the fall of 2021!
Tue, 01-14-2020 - 13:50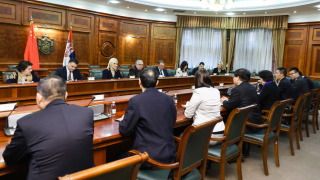 Deputy Prime Minister and Minister of Construction, Transport and Infrastructure, prof. Zorana Mihajlovic PhD, met today with the President of the Chinese company Railway International Company (CRIC) Yang Zhongmin and discussed with him the realization of the project of modernization of the high-speed railway line from Belgrade to Budapest. The meeting was also attended by Chinese Ambassador to Serbia, H.E. Chen Bo.

Mihajlovic said that Serbia is proud of the relations between the two countries, but also our two presidents, Aleksandar Vucic and Xi Jinping, and emphasized that the value of infrastructure projects with PRC amounts to 15 billion euros.
Project of modernization of high-speed railway line Belgrade-Budapest, is very significant for Serbia, not only because it is the largest project in Serbia and Southeastern Europe, but because we are part of the global Belt and Road initiative, which we are particularly proud of as it talks about Serbia's relations with PR China. With this project, we are returning Serbia to the position of a transit country through which the first express railway passes, we have never had that before," she said.

Mihajlovic added that it is important that the President of Chinese Railways visits Serbia today, with whom it was agreed to start work on the third section from Novi Sad to the border with Hungary.
"In March this year we will have completed 34 km of the left track on Belgrade - Stara Pazova railway line. By October, the right track will be finished, this is important for Belgrade and "Beovoz". In the fall of 2021, a section will be completed in Novi Sad, which will be 25 minutes from Belgrade. And in March this year we will start work on the third section from Novi Sad to the border with Hungary, "Mihajlovic said.

Yang Zhongmin thanked Deputy Prime Minister Mihajlovic and the ministry for their support and assistance in the implementation of this project, saying that yesterday on the field, he made sure that all work was going in accordance with the agreed dynamics.

"We have no problems in the realization of the project and for our part, as a responsible company, we will do everything to get the works done according to the agreed dynamics. Your continued support is extremely important to us," said Yang Zhongmin.