Mihajlovic: Priority in 2020 are reforms of e-cadastre and e-space
Thu, 11-28-2019 - 14:57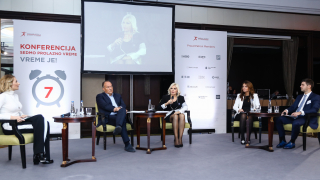 Deputy Prime Minister and Minister of Construction, Transport and Infrastructure, prof. Zorana Mihajlovic PhD, said today that the reform in the area of ​​construction permits is an example for other reforms as they should be implemented, and that for the Ministry in 2020 the priority will be reforms in the field of cadastre and spatial plans.

"For two years we have been working on the introduction of electronic cadastre, together we have also been solving problems in the field. I believe that next year is the year in which we will finally be able to say that we have a cadastre as another highly regulated area, such as construction permits today, both in the field and in perception," Mihajlovic said at the conference of the American Chamber of Commerce (AmCham) "Seventh Passing Time - 2019".
"The perception of the economy is somewhat surprising that the business climate is not expected to improve, given that the facts regarding the issuance of construction permits, where Serbia is ranked 9th on the World Bank's list today in relation to cadastre and other areas, say otherwise. It is certain that structural reforms can be discussed in public companies and some other areas where the results can be better. I also believe that the strike at RGZ contributed to the perception being worse than it would have been had it not been for the strike," said Deputy Prime Minister.

She stressed that the issue that is important for both the state and the private sector is the issue of labor availability. "This issue is important for the sustainability of Serbian economy, as well as in the region. In infrastructure, we face big problems in that area, both in terms of unskilled and highly skilled workers," she said.
"Although it is an election year, no construction site will stop, we will continue with cadastre reform and e-space reform, because it is important that we have electronic planning documents in addition to e-permits and e-cadastre. It is also important to shorten the time to get the electricity connection, which should not be 128 days," said Deputy Prime Minister.

She urged members of the American Chamber of Commerce to continue to put forward suggestions on how the business environment could be even better. "The government is not involved in business, but our task is to create the best possible environment for companies to work, because this is a path for faster development of Serbia and that is what we need to work on together," Mihajlovic said.