Mihajlovic: Projects with PR China worth 13 billion euros, to intensify cooperation in the field of investments
Fri, 10-25-2019 - 11:53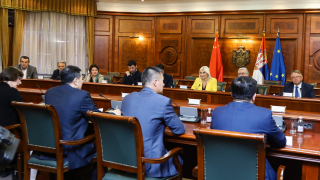 Deputy Prime Minister and Minister of Construction, Transport and Infrastructure, prof. Zorana Mihajlovic, PhD, spoke today with the delegation of the Ministry of Commerce of the People's Republic of China, led by Vince Minister, Qian Keming.

"Republic of Serbia and People's Republic of China have improved economic co-operation, fueled by good and strong ties between the two Presidents. These good relations and their mutual visits are also reflected in the increase in trade between the two countries, which is 15 times higher than in 2008 and three times higher than in the previous year," said Mihajlovic.

She emphasized that the economic cooperation between the two countries is particularly good in the area of ​​infrastructure, where the value of joint projects is about 13 billion euros. "Chinese companies are bringing knowledge and modern technologies to Serbia, which is why it is good that together we build highways and the first high-speed railway in this part of Europe," Mihajlovic said, adding that today the first freight train from China arrives, with equipment for Belgrade-Budapest railway.
Qian Keming agreed with the high ratings of the achieved level of economic cooperation, the advancement of which was encouraged by reciprocal visits by top management of the two countries. "Serbia is the first country to sign a Memorandum of Cooperation under the One Belt, One Road initiative, and we have seriously analyzed the possibilities for cooperation with Serbia in the implementation of this initiative, as well as in the re-industrialization of Serbia. We will continue to encourage Chinese companies to come to Serbia and invest," said Qian.

At the meeting concrete ways to further enhance economic and trade cooperation were also discussed, including the creation of a special task force on investment, for which the agreement should be signed at the next Summit of Heads of Government of China and 17 countries of Central and Eastern Europe.