Mihajlovic: Provide education, health care and work for Roma men and women as well as for all other citizens of Serbia
Fri, 10-25-2019 - 08:49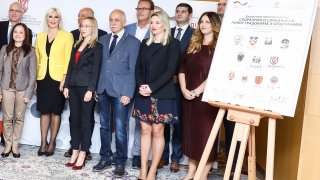 Deputy Prime Minister and President of Coordination Body for Monitoring the Implementation of the Strategy for Social Inclusion of Roma in Serbia, prof. Zoran Mihajlovic, PhD, attended today the commencement ceremony for the pilot project of cooperation with selected cities and municipalities, as a part of GIZ's project "Inclusion of Roma and other marginalized groups in Serbia".

Mihajlovic emphasized that Government of Serbia is firmly committed to the inclusion of Roma community not only as stories, ideas and desires, and that in real life we ​​struggle daily to ensure a level playing field for Roma men and women.
"It is important for us to provide Roma men and women with equal conditions to develop, educate, employ and live like all other citizens of Serbia, not because of joining European Union and opening the chapter, but because of Serbia's development, economic development and the aspiration for all our citizens to live good, quality and by European standards," she said.

Mihajlovic added that this project is especially important because it is necessary that we all make every effort to implement all measures and action plans at the local level, and that the Government of Serbia and the Coordination Body will continue to deal with it in cooperation with international partners such as GIZ.
Zoran Radojicic, Mayor of Belgrade, said that the City implements the policies of the Serbian Government when it comes to the inclusion and integration of Roma community into society.

"We are particularly focused on areas such as social protection and obtaining personal documents, employment, housing and health care. The way we help marginalized groups shows how socially responsible we are as a society," Radojicic said.

H.E. Thomas Schieb, German ambassador to Serbia, emphasized that the integration of marginalized groups is a significant pillar of German-Serbian cooperation and that GIZ will continue to support the government's coordination mechanisms in this endeavor.
"A well-established condition for social inclusion of Roma is well-functioning state structures. We will continue to support the Government of Serbia, and we are particularly pleased that there are 15 municipalities and 12 cities that show great engagement and work in this area. It is also important that we involve the local economy in this task," said Schieb.