Mihajlovic: Public health is a priority, let's act responsibly
Thu, 03/12/2020 - 15:20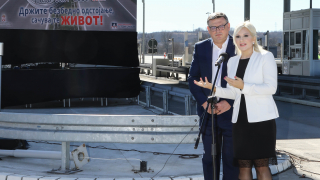 We will see how things will go on, I will certainly do my job in the Ministry as before," said Deputy Prime Minister of Serbia and Minister of Construction, Transport and Infrastructure, Prof. Zorana Mihajlovic PhD.

Asked by journalists during the presentation of the campaign "Three Seconds Whole Life", she also said that this is a time for seriousness and responsibility, and she told citizens to listen to the advice of doctors because public health comes first.

"As far as project implementation is concerned, we will give our best to keep everything running according to the agreed dynamics. However, this is a global crisis, nothing has done Serbia wrong and for now we will have some delays of 20 to 30 days," she said.

Deputy Prime Minister emphasized the importance of preserving public health of all and then considering the economic holdings and added that she had made herself available to the Ministry of Health to help as a volunteer if needed.