Mihajlovic with Qatari Ambassador on the enhancement of cooperation in air transport
Thu, 11/28/2019 - 15:21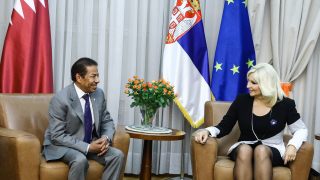 Deputy Prime Minister and Minister of Construction, Transport and Infrastructure, prof. Zorana Mihajlovic PhD, met with Qatar Ambassador to Serbia, Sheikh Mubarak bin Fahad Al-Thani, today to discuss cooperation between the two countries in the field of transport and infrastructure.

In particular, the need to sign an agreement on air traffic between the two countries has been discussed at the meeting, and it was agreed that this should be implemented as soon as possible.

"The Air Transport Agreement is important for the further relations between our two countries. We are open to establishing even better cooperation with Ministry of Transport of Qatar. Serbia, as a politically and economically stable country, is entering a new investment cycle in infrastructure and sharing experiences with Qatar, but Qatar's investments in our country are important to us," Mihajlovic said.

Ambassador of Qatar expressed his appreciation for Serbia's principled support for this country, especially when it comes to applying for membership in international organizations, such as the Executive Council of the International Maritime Organization.