Mihajlovic on the report of EC: There is no economic growth without progress in construction and transport
Mon, 06/03/2019 - 15:58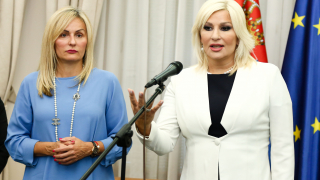 Deputy Prime Minister and Minister of Construction, Transport and Infrastructure, prof. Zorana Mihajlovic PhD., prof. Dr. Zorana Mihajlovic, stated today, when asked to comment on the European Commission's annual progress report on Serbia's progress, that all traffic laws are in line with EU standards and that she is particularly proud of the railway sector, which is recognized, although in the past years it was always pushed to the side and problematic.
 
"Although many areas in the report remained in the shadow of resolving the issue of all issues, and that is Kosovo and Metohija, the progress we have made in various areas of transport has been recognized and I am proud of that. All this would not be possible without the reforms that we started a few years ago and will continue to invest in all forms of transport, especially in the rail sector, but also in road safety and railways, " she said.
Mihajlovic said that there is no economic growth if there is no progress in the construction and transport sectors.
 
"Everything that has been done in the field of construction has influenced the business conditions. Electronic building permits and business conditions are recognized in the EC report and it is no coincidence that we have a very high level of foreign direct investment. We will continue with the reforms and I believe that in the next year's report, we will additionally achieve certain results, "she said.
 
When it comes to gender equality, Mihajlovic said that, compared to this year's 2018 report, not only work in this area and the existence of the Coordination Body, but also the Gender Equality Index, where Serbia got much better results than two years ago, was recognized.

"We are the only country outside the EU that has introduced this European standard. In addition, we need to pay much more attention to sensitive groups of women, especially women from villages and women with disabilities, "Mihajlovic said.