Mihajlovic with the representatives of MOL on the extension of the network of electric chargers on highways
Fri, 12-13-2019 - 15:00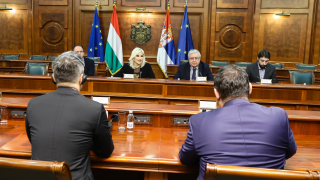 Deputy Prime Minister and Minister of Construction, Transport and Infrastructure, prof. Zorana Mihajlovic PhD, spoke today with representatives of Hungarian company MOL about development of the network of electric chargers on highways in Serbia and the improvement of business conditions through the development of water transport.

Representatives of MOL have informed Deputy Prime Minister that they plan to have a number of electric chargers installed at their gas stations from 2020, which will contribute to expanding the network of these devices on highways in Serbia.

Deputy Prime Minister said that Serbia had completed the entire Corridor 10 this year, and that before the end of the year 120 km of highway from Surcin to Preljina would be released for traffic. "We are very interested in enriching these highways with additional facilities, including the development of a network of electric chargers," Mihajlovic added.
Improvement of the conditions for supplying the domestic market with oil and petroleum products through the development of water transport, was also discussed at the meeting.

"It is important for the Government of Serbia that companies have good conditions for conducting business, for new investments and development. By investing in the development of port infrastructure and the development of waterways, we are creating the conditions for easier business for all who use water transport to supply Serbian market," said Mihajlovic.

The meeting was also attended by Hungarian Ambassador to Serbia, Attila Pinter.