Mihajlovic on road sector reform: We want efficient and profitable PE "Roads of Serbia"
Tue, 05-07-2019 - 15:42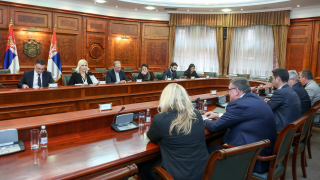 Deputy Prime Minister and Minister of Construction, Transport and Infrastructure, prof. Zorana Mihajlovic PhD., chaired the session of the Working Group for Managing the Process of Reforms of the Road Sector in the Republic of Serbia, which discussed further steps in the implementation of this reform.

Mihajlovic said that the consultant's reform report was adopted today, and that a special working group at the government level will be formed to implement the reform, which she will lead.
 
"In addition to the ongoing reform of the railways, it is very important that we have efficient companies in the road economy, above all " Roads of Serbia ", as a guide to state roads. Through the implementation of this reform, we want to increase the total investment in maintenance, to have a better road network, and that "Roads of Serbia" operate more efficiently than today, "Mihajlovic said.

At the meeting it was said that the reform has already begun after several decades and that tender for winter maintenance and the recording of the conditions of the complete road network has begun, and that the big changes will result from the implementation of the road maintenance model according to the performance.

The meeting was attended by the representatives of PE "Roads of Serbia", "Corridor of Serbia", as well as the World Bank.