Mihajlovic with road transport associations about the problem of waiting at the borders
Mon, 04-22-2019 - 14:58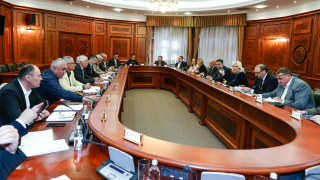 Deputy Prime Minister and Minister of Construction, Transport and Infrastructure, prof. Zorana Mihajlovic PhD., talked today with road transport associations about solving the issue of long waiting times at border crossings.

"We have already completed the extension of the border crossing Batrovci at the border with Croatia from 12 to 18 lanes, and we will also work on the physical extension of the border crossing Horgos, towards Hungary. The information we have available indicates that the police are doing their job efficiently, but there is room for shortening times for customs clearance procedures, "Mihajlovic said.
Currently, the longest waiting lines are at Batrovci-Bajakovo crossing, on the border with Croatia, and Horgos-Reska, on the border with Hungary, where about 500 trucks pass daily.

 
Short-term measures were considered at the meeting, among which was the modification of the Decree on Customs Treatment of Goods, as well as long-term measures, which among other things relates to joint controls of the customs authorities of Serbia and neighboring countries.

 
The representatives of the carrier especially pointed to the long procedure in customs clearance of goods, and asked for help to avoid the long waiting times at the border crossings, which affects not only the speed of transport, but also the departure of drivers from Serbia to Slovenia and other EU countries.
The meeting was attended by representatives of the Business Association of International Road Carriers "International Transport", the Chamber of Commerce "International Transport and Logistics", Association for International Transport, Association "Vojvodjanin", Business Association of Road Transport "Srbijatransport", as well as the Group for the transport of goods in road traffic of the Serbian Chamber of Commerce.