Mihajlovic: Roads connect us and give us life
Wed, 01-22-2020 - 08:06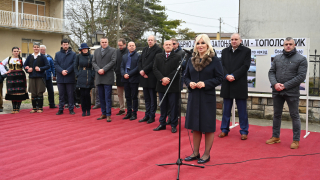 "For the Government of Serbia and President of the Republic of Serbia, Aleksandar Vucic, there are no small nor large roads, more or less significant, all roads are important because they connect us and give us life. I am pleased to be in the village of Zatonje today, where we have kept our promise and reconstructed 22 kilometers of regional and local road," said Deputy Prime Minister and Minister of Construction, Transport and Infrastructure, prof. Zorana Mihajlovic PhD, in the village of Zatonje on Silver Lake.

Mihajlovic, together with the Mayor of Veliko Gradiste, Dragan Milic, visited the village of Zatonje on Silver Lake, where the locals welcomed her and organized a cultural-artistic program.
She told the locals that everything promised in June last year had been fulfilled and that new roads brought hope and life.

"Developed infrastructure gives parents hope that their children will live in Serbia and gives children hope for a better quality of life. We have no development unless we have roads and other infrastructure. Be sure that you will have our support in the future as well," she said.

Mihajlovic also visited Veliko Gradiste and with Mayor visited the reconstructed sections of the regional Ram-Topolovnik road and the local road from Silver Lake to the village of Zatonje, and on that occasion said that the high-speed road Pozarevac - Veliko Gradiste will operate in this area, that by now RSD 6 billion has been invested in railway reconstruction, but also about EUR 2 million will be invested in Veliko Gradiste airport.
Mihajlovic asked the director of Roads of Serbia, Zoran Drobnjak, to put safety, guardrails on the reconstructed sections, for the sake of greater traffic safety.

Dragan Milic said that the two reconstructed roads are of great importance for Veliko Gradiste because they will contribute to the further development of tourism and connect Eastern Serbia with Banat.

"I have been in politics for a long time, we have never had such cooperation with the Government of Serbia. Everything we agree on together, we realize. The roads we have reconstructed are an example of good promise-keeping practices. They are important for the further development of tourism, but also for agriculture, since they connect us to Banat," he said.
The reconstruction of the section from Rama to Topolovnik and the section from Silver Lake to the village of Zatonje amounts to RSD 215 million.