Mihajlovic: Roma men and women deserve a dignified life, creating equal working conditions for all of us
Wed, 10-07-2020 - 14:32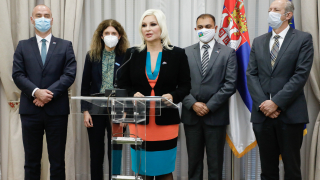 Deputy Prime Minister and Minister of Construction, Transport and Infrastructure, prof. Zorana Mihajlovic, PhD, chaired today's session of the Coordination Body for Monitoring the Implementation of the Strategy for Social Inclusion of Roma Men and Women in Serbia, and on that occasion pointed out that the dignified life of Roma community and creating equal conditions is the job of the state, local governments and international partners.

"Our task is to create equal living conditions for all citizens, and Roma men and women are a particularly vulnerable category. We have done a lot, but we can do much more. From today's session, we will send an initiative to the Prime Minister to increase the quota for higher education of Roma students from one to three percent, because the right to education and information is important and is a condition for further development. It is also important that Roma children can follow classes online in this challenging time. As a Coordination Body, we will continue to work together with all ministries and partners on further inclusion of Roma men and women, but also with the daily fight against stereotypes in order to make a step forward in improving the life of Roma community, "she said.

Mihajlovic added that the Standing Conference of Cities and Municipalities is an important partner, because everything we agree on at the national level should be implemented locally.

Michela Telatin, head of the UN Office for Project Services (UNOPS), said the agency would continue to support the government's efforts to improve the position of Roma community, and that solutions were sought at both national and local levels to improve lives of Roma men and women.

"For years, UNOPS has been carrying out activities aimed at better access to social services, as well as better housing, food and hygiene conditions. There are still many challenges ahead of us, but thanks to the current EU-funded project aimed at supporting social housing and active inclusion, we are working to ensure that Roma men and women benefit, not only through social housing, but also through inclusion related to employment, education and other segments of life. "Thank you to the Deputy Prime Minister for the strong support and leadership during this project," she said.

Dalibor Nakic, president of the National Council of the Roma national minority, said that it was agreed today to launch an initiative to increase the quota for affirmative enrollment of students from one to three percent, which will contribute to increasing the number of Roma with higher education.

"It will mean a lot not only to the Roma community, but also to the society as a whole." We expect young highly educated Roma men and women to give impetus to the further integration of Roma community into society," Nakic said.

Among other things, the meeting focused on the implementation of projects aimed at improving the socio-economic living conditions of Roma population and supporting social housing and active inclusion, as well as the activities of the National Coalition for Prevention of Early Marriages and activities undertaken during the coronavirus epidemic.

The session of the Coordination Body was also attended by representatives of the Ministries of Health, Justice, Finance, State Administration and Local Self-Government, Youth and Sports, Education, Science and Technological Development, for European Integration, Director of the Office for Human and Minority Rights, AP Vojvodina, German International cooperation (GIZ), UNOPS, UN Women, UN Human Rights Team, EU Delegation to Serbia, Standing Conference of Towns and Municipalities and the Council of Europe.