Mihajlovic: Serbia is the first in the region to join "Belt and Road" initiative and China respects that
Fri, 11-15-2019 - 11:31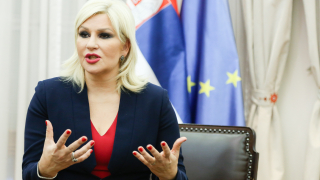 "Today, everyone is scrambling for Chinese investments, and Serbia is the first country in Southeastern Europe to sign a Memorandum of Understanding with the Global Project "Belt and Road" and the People's Republic of China respects this," said Deputy Prime Minister and Minister of Construction, Transport and Infrastructure, Prof. Zorana Mihajlovic PhD on the morning show on TV Happy.

She emphasized that there is no reason for Serbia to give up on Chinese investments or Chinese partners on numerous projects that are being implemented.
"Why should we give up our Chinese partners in Smederevo Ironworks, RTB Bor, the construction of highway "Milos the Great" that we have been building together, or the new projects we are implementing. It is economically viable and Serbia is losing nothing. In doing so, PRC has good relations with the EU, especially in the financial and banking sectors, so criticism from non-EU countries does not find fruitful ground," she said.

Mihajlovic added that the great thing is that Serbia was able to preserve itself, be stable and strong and secure cooperation and good relations with everyone.
"It is our interest to work with everyone - and with the Chinese, Russians, Azerbaijanis, Turks, Americans and Europeans. We have put serious work into building good relations with everyone, President of the Republic, Aleksandar Vucic, and the Government of Serbia. And as a member of the Government, I am here to realize all that is good for our country," she concluded.