Mihajlovic: Serbia has shown that it is a country that connects with Europe and looks to the future
Thu, 11-14-2019 - 10:43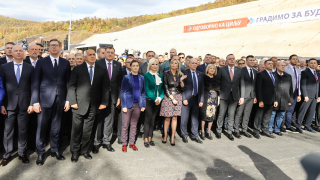 Deputy Prime Minister and Minister of Construction, Transport and Infrastructure, prof. Zorana Mihajlovic PhD, said today that with the completion of Corridor 10, Serbia has shown that it is a country that connects with the region and Europe, which looks to the future and strives for accelerated development.

"The future of Serbia lays in connectivity, and with the completion of Corridor 10, we have shown that we are a country that is capable of implementing large projects that allow us to be what we are in our position in the region, which is an unavoidable transit corridor. Serbia is committed to peace, co-operation and connection with the region and Europe and good relations with our neighbors and the completion of this highway, and that is what we show," Mihajlovic said. She recalled that the entire Eastern fork of Corridor 10 was put into circulation on the eve of the major World War II Armistice Day, in which Serbia suffered enormous losses, primarily in human beings.
According to the Deputy Prime Minister, the completion of Corridor 10 was "a generation exam, is it capable of big things and that the exam has been successfully passed".

What many have dreamed of, which we have been waiting for more than 30 years, has been completed by President of Serbia Aleksandar Vucic, this Government of Serbia and the Ministry I lead. "Thank you to all our workers without whom we would not have have this highway, thanks to the companies, a big thank you to the "Corridors of Serbia", who successfully led this project, as well as to all our partners, and I believe that we are all proud of what was done and which we leave to the citizens of Serbia. The Corridor 10 mission is over, but we are continuing with new projects and new highways that will make Serbia a country that is more developed and better connected to its neighbors," Mihajlovic said.
Mihajlovic, together with Serbian President, Alekandar Vucic and Prime Minister of Bulgaria Boyko Borisov, Prime Minister and members of the Government of Serbia, Bosnia and Herzegovina Presidency Member, Milorad Dodik, and other senior officials, as well as contractor representatives, workers and citizens, attended the commemoration of the last sections on the Eastern fork from Prosek to Crvena Reka.