Mihajlovic: Serbia is a homeland for Roma
Fri, 04/05/2019 - 13:20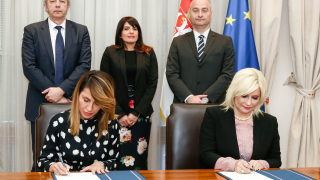 Deputy Prime Minister prof. Zorana Mihajlovic PhD, met today with the new Secretary General of the Regional Cooperation Council (RCC) Majlinda Bregu, with whom she discussed the integration of Roma population into society, and then they signed the Agreement on the Establishment and Operation of the Action Team of the Regional Cooperation Council for the Integration of Roma 2020.

 
Mihajlovic, who chairs the Coordination Body for Monitoring the Implementation of the Strategy for Social Inclusion of Roma Men and Women, emphasized that the inclusion of Roma community in society is one of the priorities of the Government of Serbia, which showed that it has the political will to improve the situation of Roma population.
 

"Serbia is a homeland for Roma and there are no more important things than doing everything we can to integrate Roma fully into society. They are our fellow citizens and it is important that we all together, all the countries of the Western Balkans, work on this issue. The political will we have shown has helped us to define important laws and strategic documents, but also allocate money for the implementation of the Action Plan. The situation of Roma men and women is not a question of a ministry, but of the entire government, "she said.
Deputy Prime Minister added that all citizens of Serbia should be familiar with the position of Roma community, how they live, whether they are finishing school, whether they can get a job, to a common fight of the destruction of prejudices and stereotypes that rule in the society.

 
"We are going step by step, I will make efforts to be even more efficient, because we have the capacity to do that," she concluded.

 
Majlinda Bregu thanked the Government of Serbia and Deputy Prime Minister Ms. Mihajlovic for their support in the successful integration of Roma into society and added that today's agreement will give impetus to further work on the integration of Roma.

 
"A lot of Roma live in the countries of the region, it is up to us to pay more attention to resolving their position and to stop the stigmatization and marginalization of the Roma community. Today's agreement allows us to continue the implementation of a project aimed at addressing all important issues for the Roma community, such as housing and employment. If we ignore these questions, we are neglecting ourselves, "Bregu said.