Mihajlovic: Serbia ready to open air transport, we are negotiating with Europe
Thu, 04-30-2020 - 21:34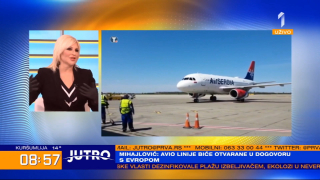 Deputy Prime Minister and Minister of Construction, Transport and Infrastructure, prof. Zorana Mihajlovic PhD, said today that our country is ready to open air traffic, but that this will happen in agreement with Europe, given that there are still no passenger flights.
"Our planes, crews and airports are ready to start flights, but as we work together with Europe, we will also open flights. According to some recommendations, we are talking about the interval between May 15th and 18th. It is also important to know that Nikola Tesla Airport was not closed at any moment, that Air Serbia brought 15,000 of our citizens from different parts of the world, and that it delivered 2,500 tons of humanitarian aid," she said.
Mihajlovic also pointed out that safety measures will be taken into account in passenger air transport, in accordance with the doctor's recommendations.
"All the measures we take are in line with the attitude of doctors and helathcare professionals. As for the safety measures in air traffic, everyone who wants to travel will have to have a corona test results no older than 72 hours, and when they land, they will go in isolation," she said.
Deputy Prime Minister urged citizens to be cautious and not to buy airline tickets that are already offered by some low-cost companies, bearing in mind that the state has not yet issued any operating licenses.
"For any aircraft to fly or land at our airport, a decision of the Ministry and the Directorate of Civil Aviation is required. We have not given such permits to anyone and it is very risky now to buy tickets, because it is not certain when the flights will start," Mihajlovic said.
Deputy Prime Minister also pointed out that air traffic worldwide is suffering damage, estimated at 160 billion euros in Europe, while the damage to Serbia so far is about 30 million euros.
"In this situation, it has shown how important it is for us to have a national airline, which in the pre-crisis period also increased its revenue and passenger numbers. Air Serbia is doing a very important job at the time of the epidemic and it is the state's turn to give them the conditions to work and help them get out of the crisis as easily as possible," Mihajlovic concluded.