Mihajlovic with Serbian Chamber of Engineers: Full support for strengthening the engineering profession
Thu, 01-23-2020 - 15:28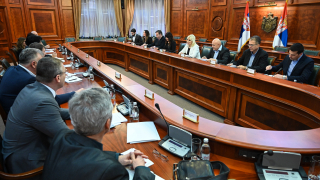 Deputy Prime Minister and Minister of Construction, Transport and Infrastructure, prof. Zorana Mihajlovic PhD, spoke today with the President of the Serbian Chamber of Engineers (IKS), Marica Mijajlovic, and the leadership of the Chamber on the cooperation of the Ministry and IKS in advancing the engineering profession.

"Serbia is investing billions of euros in the construction of infrastructure and it is necessary for the engineering profession to follow it, and it is precisely the Chamber of Engineers that is a key institution for the editing and advancement of the profession and the continuing education of engineers. Government of Serbia and the Ministry are there to support the implementation of the Chamber's plans, as our common goal is for the engineering profession in Serbia to show all its strength and for our engineers to keep up with the latest knowledge in their field," said Mihajlovic.
She stated that an important task for the new leadership of IKS was to open the Chamber to the profession and citizens and to strengthen the capacity of the organization, in order to restore the competencies that had been temporarily taken away by the Chamber at a time when the institution was unable to fulfill them.

IKS President, Marica Mijajlovic, said that the task of the new IKS leadership is for the Chamber to fulfill its role as effectively and efficiently as possible, to work in the interest of the profession and to show that it is ready to be handed the jobs for which it should be responsible.