Mihajlović signed the Agreement on realization of projects with General Director of the Russian Railways
Mon, 01/21/2019 - 15:02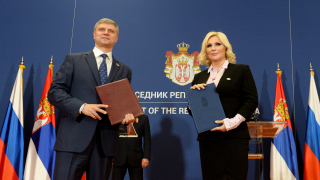 Deputy Prime Minister of Serbia and Minister of Construction, Transport and Infrastructure, prof. Zorana Mihajlović PhD., and general director and President of the Board of the Russian Railways Oleg Belozyorov, signed the agreement on realization of projects on regular maintenance of railway infrastructure on the territory of the Republic of Serbia in the presence of the President of Serbia and Russia, Aleksandar Vučić and Vladimir Putin.
 
This is the second document in rail transport sector that was signed during the visit of Russian president to Serbia. It was signed after " Infrastructure of Railways of Serbia " has signed one with "RZD International" for the new railway projects worth 230 million euros. 
"As we use the knowledge of the Russian Railways in the construction and reconstruction of railways, and as we will use it to build a new dispatch center and improve the management of railway traffic, it is equally important that we use this knowledge in the field of maintenance, so that the traffic on the reconstructed railways will function at its highest level of safety and speed, and in years and decades ahead of us, "says Mihajlović. 
Deputy Prime Minister stressed that in cooperation with Russian Railways in the previous period, more than 200 kilometers of railways were rehabilitated, primarily on Corridor 10 and Bar railway, and that today the contract for new projects was signed, including the construction of a unique dispatch center and the development of technical documentation to continue the reconstruction of Bar railway.