Mihajlovic signed a contract for the construction of Fruska Gora corridor
Wed, 10-07-2020 - 13:51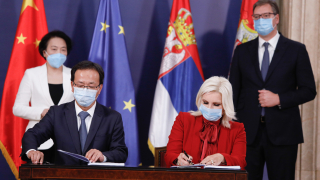 Deputy Prime Minister and Minister of Construction, Transport and Infrastructure, prof. Zorana Mihajlovic, PhD, signed today a commercial contract on the design and execution of works on the construction of highway Novi Sad - Ruma.

The contract on the construction of  Fruska Gora corridor, worth 606 million euros, was signed with the Chinese company CRBC, in the presence of the President of Serbia, Aleksandar Vucic, and the Ambassador of the People's Republic of China, Chen Bo.

"Last year, when we completed the entire Corridor 10 and opened the highway from Belgrade to Cacak, we said that we would not stop there and would continue with new projects. "With the construction of Fruska Gora corridor, for which we signed an agreement today, and Ruma-Sabac-Loznica project, which is already being implemented, we will have a road that will connect Vojvodina with Western Serbia, but which is also important for Serbia's regional connection," Mihajlovic said.

The total length of this fast road is 47.7 kilometers, including the new bridge over Danube and Iriski Venac tunnel through Fruska Gora, 3.5 km long.

The future fast road from Novi Sad to Ruma will connect three municipalities: Novi Sad, Irig and Ruma. It is connected to the existing state road IB row number 12 Novi Sad - Zrenjanin - the border of Romania, and finally to the highway and the fast road under construction Ruma-Sabac-Loznica.

In that way, AP Vojvodina will be connected with the Western and Northwestern part of Serbia, ie important regional centers such as Novi Sad, Ruma, Sabac, Loznica. It also represents Serbia's indirect link with B&H, Croatia and Romania.

The effects of the construction of the corridor will be reflected in the improvement of the regional position in the field of accessibility, in the traffic relief of urban areas (bypasses around Novi Sad, Irig and Ruma) and the removal of transit from the National Park "Fruska Gora", by building Iriski Venac tunnel.