Mihajlovic signed the contract for Morava airport, Serbia gets the third international airport
Mon, 02-25-2019 - 12:07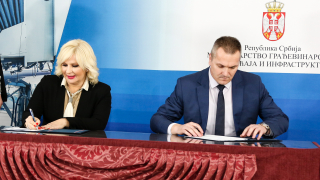 Deputy Prime Minister and Minister of construction, transport and infrastructure, prof. Zorana Mihajlovic PhD.,  signed today the contract on non-monetary investment of the Republic of Serbia in the company "Airports of Serbia" for the purpose of increasing the company's core capital, thus allowing Serbia, after Nis and Belgrade, to receive the third international airport.

 

By signing the contract with which the state-owned company "Airports of Serbia" transfers assets worth 1.18 billion dinars, including, among other things, the port building and platform, conditions are created for the operation of this airport as a mixed, civil-military one.
Serbian government will invest additional EUR 8.5 million in the airport to put the runway into function, for airport equipping, training and employment of about 50 people and other costs necessary for the operation of the airport.
 

By the realization of these investments, it is planned that Morava Airport will be ready to transport passengers and goods from June 28th 2019, and until then the completion of the certification process for international air traffic is planned.

 
Ladjevci Airport will initially be able to receive ATR-72 and B-737 airplanes so that later, after upgrading and expanding the runway, it could receive all aircraft without limitations, including the B-747. 
Deputy Prime Minister signed the contract with the director of the "Airports of Serbia", Zoran Pavlovic, who in Kraljevo, with Minister of Defense, Aleksandar Vulin, also signed a Contract on the joint use of maneuvering areas, the airport for joint use, runways (so-called taxi trails).