Mihajlovic signed the Cooperation Agreement with FPS: We want to be the support for students, the door to the Ministry are always open
Thu, 01/17/2019 - 08:25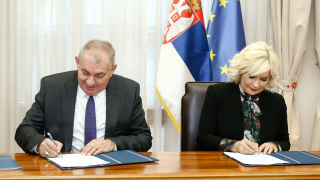 Deputy Prime Minister and Minister of Construction, Transport and Infrastructure, prof. Zorana Mihajlovic PhD., has signed the Agreement on Cooperation with the Faculty of Political Sciences of the University of Belgrade, and said that future cooperation will first and foremost for the benefit of students, which will enable them to test the knowledge gained at the University in practice.
 "The Ministry has previously cooperated with different Faculties, through an agreement with the University of Belgrade, and all in the wish to, as the Government of Serbia, as the Ministry and Coordinating Body for Gender Equality, support students, to confirm and enrich their knowledge through practice and to get them acquainted with what the Ministry is doing, as well as the institutions and companies that are a part of the sector, "Mihajlovic said after signing the agreement in the Government of Serbia.
"Our doors are always open and I believe that we can be even more supportive, especially to students of the Senior/Capstone year. It would be an honor for us if some of them were to stay in the agencies, administration departments and other institutions where they were interns," added Deputy Prime Minister, Ms. Mihajlovic. 
Dean of the FPS, prof. Dragan Simic PhD., said that the Faculty as an academic institution strives to be an active participant in the development of society and to emerge from the "Ivory tower" of theoretical knowledge. "Through our Career Development Center, we are trying to enable as many of the internships as possible for our students in order for them to acquire practical experience, which, together with theoretical knowledge, gives a complete personality," said Simic.
He added that he believes that students from all four Majors of the FPS can contribute to the Departments headed by the Deputy Prime Minister, including the Coordination Body for Gender Equality and the Coordination Body for Monitoring the Implementation of the Strategy for Social Inclusion of Roma men and women.

 
Simic stressed the importance of cooperation in the area of gender equality, since FPS has Gender Studies in Master Studies and it has a Gender Studies Center, which is unique in the whole region. "We have thus far had good cooperation with the Ministry, and we expect our students to represent themselves and the institution from which they are coming in a decent way," said Simic.
The Agreement on Cooperation between the Ministry of Construction, Transport and Infrastructure and the Faculty of Political Sciences, among other things, includes the organization of professional practices, cooperation in the field of gender equality, strategic planning and policy preparation, as well as the organization of expert meetings.