Mihajlovic: Support of Serbia to Belgium for election to the Council of the International Maritime Organization
Wed, 07/10/2019 - 15:04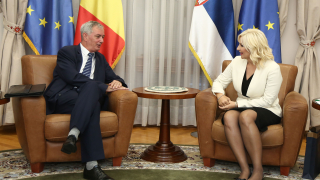 Deputy Prime Minister and Minister of Construction, Transport and Infrastructure prof. Zorana Mihajlovic PhD., met today with the Ambassador of the Kingdom of Belgium to Serbia, H.E. Adam Koenraad, with whom she discussed the possibilities of cooperation between the two countries in the field of infrastructure and transport.

At the meeting, the candidature of the Kingdom of Belgium for re-election to the Council of the International Maritime Organization was also discussed.

"Serbia strongly supports the candidacy of Belgium, as we did in 2017, and we believe that you can contribute to the realization of the goals of this organization, primarily to the sustainable development of maritime affairs, economic development, environmental protection and safe transport," Mihajlovic said.
Deputy Prime Minister pointed out that Serbia is committed to improving water transport, in which it hasn't been invested for decades, and has made the ambassador acquainted with the new investment cycle and infrastructure projects that Serbia is launching this year.

Ambassador Koenraad expressed his gratitude for the support Serbia has given to Belgium in the candidacy for the Council and highlighted the interest of Belgian companies for infrastructure projects in Serbia.

"You are leading the ministry with a huge portfolio, it is a praiseworthy thing what you have accomplished so far. We are interested in new projects you are launching, "he said.