Mihajlovic with Swedish ambassador: Great progress in infrastructure and gender equality
Wed, 07/10/2019 - 12:33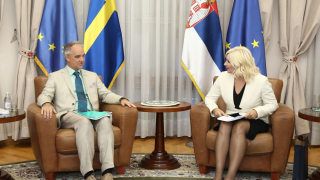 Cooperation in the area of ​​infrastructure projects, traffic safety, but also the continuation of successful cooperation in the area of ​​gender equality were the topics of today's meeting of minister of construction, transport and infrastructure prof. Zorane Mihajlovic PhD. And H.E. Jan Lundin, Ambassador of Sweden in Belgrade.
 
Swedish ambassador praised Serbia's achievements in the field of infrastructure.
 
"I see progress in Serbia year after year. You've done a lot in infrastructure, starting new projects and I'm sure we can learn a lot from each other. Sweden is committed to road safety and reducing of road accidents, and we are here to share experiences in that area, " Lundin said.
Deputy Prime Minister pointed out that Serbia will launch a new investment cycle this year and that the value of projects in infrastructure will amount to around 14 billion euros.
 
"This year only we will start construction of several highways, from Moravian corridor, via highway to Bosna and Herzegovina, the continuation of the construction of Corridor 11 from Preljina to Pozega, the highway and fast track roads Ruma-Sabac and Sabac-Loznica. Also, we invest a lot in Serbian railways, besides the most important project of the fast railway track from Belgrade to Budapest, comprising this year, we will reconstruct 550 km of regional railroads. There is a lot of space for cooperation and your companies are welcome in Serbia, " she said. 
At the meeting, there were also words about gender equality. Ambassador Lundin praised the efforts and activities of the Government of Serbia and the Coordination Body in this area.
 
"We are very pleased that the implementation of the Integrated Response to Violence against Women and Girls project is ongoing, and we are pleased to support the next phase of the project. Count on the support of the Swedish government, which is well known for promoting these values, " he said.
 
On this occasion, ambassador of Sweden gave an invitation to Deputy Prime Minister Ms. Mihajlovic to a ministerial conference to be held next year in Stockholm on the subject of traffic safety.