Mihajlovic: Thank you to the army and police, we will build another 20,000 apartments
Tue, 09-10-2019 - 12:35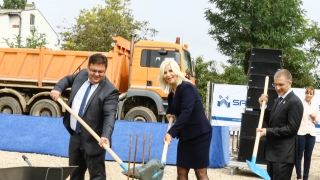 Deputy Prime Minister and Minister of Construction, Transport and Infrastructure, prof. Zorana Mihajlovic PhD., has opened today the works on housing construction for members of security forces in Sremska Mitrovica. Together with Mihajlovic, the foundation stone for the construction of 190 apartments worth 750 million dinars was laid by Deputy Prime Minister and Minister of Interior Affairs, Nebojsa Stefanovic.
 
Mihajlovic emphasized on this occasion that this was an important project for the Government of Serbia and that it was the time for the country to repay all those people who not only protected our country, but care about Serbia's security till today.
"It has become common for us to start works on a new building in another part of Serbia every now and then. I am glad that Sremska Mitrovica is the sixth city where we are starting construction works, I am glad that we will start building in Belgrade in October as well, and I am even more pleased that in a year some people will move into their new apartments, especially in Nis and Vranje. We are solving housing problems that have not been resolved for decades. By the end of this year and early next year, we will begin the construction of eight thousand apartments, and among the new cities will be Sombor, Zrenjanin, Zajecar and Krusevac," she said.
 
Mihajlovic added that in 2014 it was not possible to talk about such a big project, but that with serious fiscal consolidation and work of both the President and the Government of Serbia, our country is strong and stable today.
 
"That is why today we can say that in the next few years we will build 20,000 apartments worth almost 800 million euros, and that the construction of the first eight thousand apartments will be worth about 300 million euros. Serbia is stable today, and you are important because you maintain that stability, so that we can develop economically and be politically and economically stable, " she said.
 
Deputy Prime Minister and Minister of the Interior Affairs, Nebojsa Stefanovic, thanked all members of the army and police.

"Thank you for all that you have done and what you are doing for Serbia. The country will continue to care for you," Stefanovic said.