Mihajlovic: Thank you to those citizens who respect Government's decisions, I ask others to do so as well
Fri, 03-20-2020 - 16:04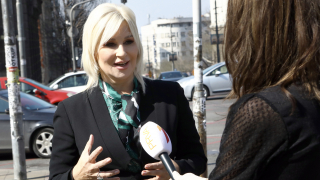 "First of all, I would like to thank all those citizens of Serbia who respect the decisions that the Government of Serbia makes, and I ask others to do the same, because this is important for our country and we are doing it to preserve the health of all," Deputy Prime Minister and Minister of Construction, Transport and Infrastructure, prof. Zorana Mihajlovic PhD told for TV PRVA today. 
She recalled that from 12pm today inter-city traffic has been suspended, and that it refers to bus, rail and water traffic.
"This is an important decision to minimize the number of people who could be infected with the virus. I ask that we all abide by these measures. Also, I do not exclude the possibility that in the coming days the city transport will be cancelled as well, which will depend on the epidemiological situation and what professionals says," she said.
Mihajlovic also reminded that international passenger traffic has been suspended and that no one can enter the country since 8am this morning, but that international transport is running smoothly.
"The most important thing for the country and the citizens is that the supply goes smoothly. Trucks enter Serbia, as does transit. We have enough food and everything we need. When it comes to air traffic, it has been suspended for passengers, but Nikola Tesla Airport is open for humanitarian convoys, flights and transit. It is important that, at this time, when all countries are facing this crisis, we be in solidarity," said Deputy Prime Minister Mihajlovic.
She once again sent a message to all citizens of Serbia to be responsible and disciplined, to listen to the decisions of the Ministry of Health and helath professionals, and to stay in their homes, minimizing every contact and preserving themselves and their country.