Mihajlovic: There are no holes nor conflicts in the Government if we all obey the law
Thu, 10-10-2019 - 14:43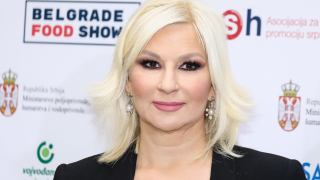 "The story of taxi drivers and CarGo and the statements of all the other actors have been turned into a Spanish soap opera. And the solution is very simple and stands at the very beginning of an episode - the law must be obeyed," said Deputy Prime Minister and Minister of Construction, Transport and Infrastructure, prof. Zorana Mihajlovic PhD.

When asked by reporters at the Belgrade Food Show to comment on Prime Minister Ana Brnabic's stance and the situation with taxi drivers and CarGo, she said it was a bad thing to hide behind the law-abiding story that there was some conflict in the Government.

"I am not in conflict with Prime Minister Ana Brnabic, if she is in conflict with me then it may mean that she does not obey the law and I deeply believe and I am sure that is not true. The law was signed by the Prime Minister, voted by deputies and eventually signed by the President of the Republic," she said.
Mihajlovic said that there is no hole in the Law on Transportation of Passengers in Road Transport, but that there is one company that does not obey the law, performs taxi transportation illegally ie. to be wild and that there is no difference between wild taxi drivers and them.
"The story of loopholes in the law means that each of us could do it - doctors could set up an association and provide a disease prevention service, and whether you would be treated by an over-the-counter or unlicensed doctor, no one knows. Or caterers can also set up an association to serve breakfast, lunch and dinner, and we don't know who will cook for you. It's not a solution, it's a law-abiding solution. You need to register, to know who you are, to issue fiscal bills and more," said Deputy Prime Minister.
Mihajlovic added that she does not protect taxi drivers and that it is unacceptable what is happening on the streets of the city, but that she does not attack CarGo, but asks that everyone obeys the law.

"I do not have the luxury of disobeying the law, Car Go financiers seem to have that luxury and will have to bear the consequences. We did not make this law alone, but with all those who will implement it. If we want to change the law, let's do it, but while it is in force it must be obeyed," she concluded.