Mihajlovic: There is no tolerance of speed when it comes to people's lives
Fri, 11/15/2019 - 11:43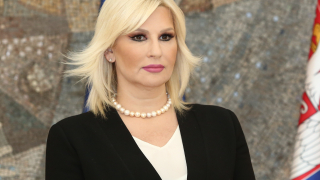 "Traffic safety is paramount and when it comes to people's lives, no tolerance to higher speed is acceptable," said Deputy Prime Minister and Minister of Construction, Transport and Infrastructure, prof. Zorana Mihajlovic PhD.
 
As a guest on Morning TV show, she recalled that the Serbian government had amended the laws and allowed the top speed to increase from 120 to 130 kilometers per hour, taking into account the fact that Corridor 10 was being finished.
"Although I understand people want to drive at a higher speed, when they see what highways we have, Ministry of Interior Affairs is the one that estimates how much, where and how it can be driven. If MIA says we can drive faster than 130 km per hour, I am in favor of changing the law, knowing what the law is, obeying or changing, but that the police tolerates speed, that is not acceptable," she said.

On this occasion, Mihajlovic called on everyone to abide by the regulations and pointed out that Serbia recorded a lower number of casualties and deaths than four years ago, and that up to 40 percent.