Mihajlovic: As of today, more than 3,500 intercity lines are re-established in Serbia, we have started coming back to life
Mon, 05-04-2020 - 19:47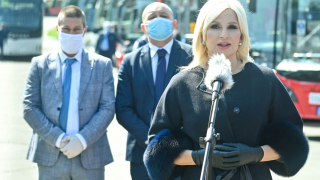 Deputy Prime Minister and Minister of Construction, Transport and Infrastructure, prof. Zorana Mihajlovic, PhD, visited Lasta transport company today on the occasion of the re-establishment of intercity bus and rail traffic.
She, along with Lasta CEO, Vladan Sekulic, visited the bus fleet of the company, which is ready to accommodate long-distance passengers.
"As of today, more than 3,500 intercity lines have been released, around 3,500 buses and 73 trains are beginning to operate throughout Serbia. Step by step, we return to life, back to normal, with all safety measures, because the health of all of us comes first. Protective equipment is required, as is physical distance in the vehicle," Mihajlovic said.
Deputy Prime Minister said that at the time of the epidemic, road traffic proved to be a worthy and important part for the functioning of the state.
"And that is why I am at Lasta today, to thank the drivers and all the employees of this company for through the time of this crisis they transported medical staff, people on dialysis, as well as our citizens who have landed from other countries. It is important that we slowly return to a normal life, rules exist to preserve ourselves and others. Without masks and gloves there is no getting on buses and trains, people will be there to help citizens," she said.
Mihajlovic added that Serbia is ready for the establishment of air transport today, that our airports are ready, like "Air Serbia", but that this will depend on the agreement with European countries, because there are no regular flights anywhere in Europe.
Director of "Lasta", Vladan Sekulic, said that the company is ready with its 650 vehicles for passenger traffic.
"In the past two months, we have been able to maintain traffic levels by transporting workers. We have also managed to preserve the health of drivers and other employees. We are ready to welcome passenger traffic, and when buying a ticket we will also give away masks to passengers and transport them to their desired destinations," he said.