Mihajlovic: From today, Port of Novi Sad on the international stage of water transport
Fri, 09-27-2019 - 13:59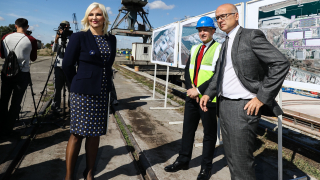 Deputy Prime Minister and Minister of Construction, Transport and Infrastructure, prof. Zorana Mihajlovic PhD, visited the Port of Novi Sad today on the occasion of the inclusion of this port in the global chain of ports managed by the company "DP World" from the United Arab Emirates, where she attended the presentation of an investment plan for the Port of Novi Sad.
Mihajlovic emphasized that this day is important because Port of Novi Sad has entered the international stage of water transport.

"DP World is the first foreign investor in water transport in Serbia. I am glad that for a partner we have one of the best companies in the world, and Port of Novi Sad is 79th in the world that this company manages. It has not been invested in water transport for decades, we are correcting that mistake," she said.
Mihajlovic added that 30 million euros will be invested in Port of Novi Sad, and that the state will continue investing in other ports - Sremska Mitrovica, Prahovo, Bogojevo, Smederevo.

"Serbia is changing in terms of infrastructure, because infrastructure is the basis of economic development. You can see that in Novi Sad, in addition to investing in the port, Zezelj's Bridge has been completed, high-speed railway lines and new roads are being built," she said.

Milos Vucevic, Mayor of Novi Sad, said he was pleased to invest in this port, saying that DP World takes care of employees, the environment and Novi Sad.
"They have shown that they are also a socially responsible company that invests in other segments. I am delighted that Novi Sad will receive one of the most modern docks for travelers and that we will be able to bring Novi Sad, Vojvodina and Serbia to tourists," he said.
Mubarak al-Dhaheri, ambassador of the United Arab Emirates to Serbia, said good relations between the two governments, Serbian president and Crown Prince of Abu Dhabi, should be transferred to both operational level and economic cooperation.

"Negotiations have been going on for a year and a half. I believe that the management of Port of Novi Sad will be at the highest level, as the cooperation of the two governments is exceptional," the ambassador said.

Rado Antolovic, Chairman of the Shareholders Assembly of "DP World" Novi Sad, said that the long-term investment plan of this company was presented today.

"We will continue to cooperate with the Government, ministry and the city, our platform is clear - investing in the port, which will not last one month, we have come here to stay and work to the highest standards," Antolovic said.