Mihajlovic: Together with the contractors, we do everything we can to make construction sites on large infrastructure projects work
Tue, 07-28-2020 - 15:00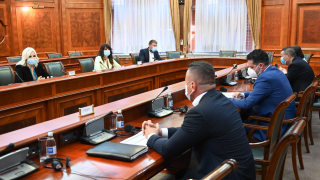 Deputy Prime Minister and Minister of Construction, Transport and Infrastructure, prof. Zorana Mihajlovic PhD, talked today with representatives of construction companies working on the largest infrastructure projects in the field of road, rail and water transport, as well as projects of communal infrastructure and construction of apartments for members of security forces on the functioning of construction sites and protection of workers in COVID- 19 pandemic.

"It is very important for our economy that all construction sites in Serbia work and are active. Whether it is projects in road, railway, water or communal infrastructure, as well as apartments for security services, contractors are maximally organized and take into account the safety of workers - from protective equipment, through the way they are brought to work, to where they are housed. So far, there are no infected workers or those in isolation, which does not mean that this cannot happen," said Mihajlovic.

Deputy Prime Minister pointed out that the Ministry will continue to be there to provide support to contractors and workers in all challenges during the epidemic.

"Today, we agreed that my young advisors will be available in the office 24 hours a day, which the representatives of the contractors can call at any time if there is a problem to help to solve it. It is important that companies continue to implement all prescribed measures to combat the infection, but also that there are clear plans and procedures in case any of the workers on the construction site are infected. It is important to preserve the health of workers, but also to ensure that the work is carried out smoothly. "Because the construction sites that are working and the active working population are important for our economy, which depends on them," said Mihajlovic.

Representatives of the companies informed Deputy Prime Minister about the measures they are taking to prevent the spread of the infection on the construction sites.

Measures applied by contractors include, among other things, keeping a distance, organizing meetings via video call, as well as working in small groups, to prevent the possible spread of the infection.

According to the representatives of the companies, hygiene measures in the camps and offices have been strengthened, sufficient quantities of protective equipment have been provided and the organization has been adjusted when it comes to transportation, food, accommodation of workers and work spaces. Care is also taken to isolate the infected in a timely manner and to test employees with whom they have been in contact.

Meetings with the Deputy Prime Minister were attended by representatives of Chinese companies CRBC, CRIC and Power China, Azerbaijani Azvirt, American Bechtel, Russian Railways (RZD), Integral from Republika Srpska, Strabag, Vojput ", Turkish" Tasyapi "," Millennium Team "," Eurobuild "," Best Construction ", SET," Ljuba Invest "," GPD Quay "," Grading "," Samex Group "," Standard Group "," GP graditelja "," Feromont "," Elektromontaza "," Groma Hold "," DSD Noell ", as well as representatives of PE " Roads of Serbia ","Corridors of Serbia "," Infrastrucutre of Railways of Serbia " and " Elektroprivreda Srbije ".