Mihajlovic: Together, we remove non-physical barriers to better connect with the region
Tue, 03-05-2019 - 12:13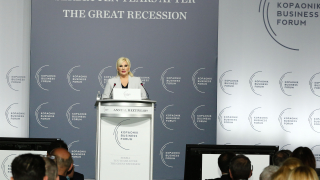 Deputy Prime Minister and Minister of construction, transport and infrastructure, prof. Zorana Mihajlovic PhD., said today at the Kopaonik Business Forum that connecting with the region implies not only the construction of new highways and railways, but also the removal of non-physical barriers that represent a significant obstacle to GDP growth, faster movement of goods and overall economic development.
 "Physical barriers slowly remain behind us, with the projects we implemented and with the new investment cycle that is starting this year, worth more than five billion euros. However, what we need to work on more is to remove non-physical barriers, that is, not to keep trucks and trains at borders, which is on average from five to eight hours, " said Mihajlovic at today's plenary session of Kopaonik Business Forum titled " The Impact of Infrastructure Development, innovation and active employment growth policies ".
She said that Macedonia and Bosnia and Herzegovina are already working on the establishment of joint border crossings, as is planned with Montenegro, but that the biggest problem is the retention on the borders between Serbia and the countries that are members of the European Union, such as Hungary, Romania and Bulgaria. "This is a serious problem and a serious obstacle to economic development, efficiency and competitiveness and GDP growth," Mihajlovic said. 
Speaking about the results achieved in the previous period, Deputy Prime Minister said that infrastructure in Serbia in 2019 is at the point where there is no going back to the old, that is, the underdeveloped railway, unreformed railway companies and contracts for maintenance of roads from 20 years or more.
"In the previous period of time, we mainly dealt with projects that we, as the Government, inherited. It was not easy to catch up with all the problems and complete projects. We have asphalted about 300 kilometers of highways, and the number of vehicles on our highways in 2018 amounted to 58 million, compared to 32 million in 2012, "Mihajlovic said, adding that in the next 10 years it is expected that this number will increase to 110 million vehicles.
"In front of us, the new investment cycle which is worth more than five billion euros, and it includes the construction of new highways that we will help in connecting with the region, investment in new fast lanes, as well as in water and air transport. In addition to Nis-Merdare-Pristina highway, we will also build a new highway to Bosnia and Herzegovina, which is important for the political and economic stability of the region, as well as the Moravian Corridor from Preljina to Pojate. We expect this year the beginning of works on the Moravian Corridor, and this highway is especially important because it will connect central Serbia and help in the faster development of this region and keep the youth in the country, " Mihajlovic said. 
She added that the new investment cycle includes the construction of the Belgrade-Budapest highway, the modernization of the Nis-Dimitrovgrad railway, as well as the continuation of investment in air traffic, which is already quite different today compared to a few years ago.
 
According to her, the number of passengers increased from three million to about six million at the Belgrade airport, and at Nis airport the number increased from about 1,300 to more than 350,000 in 2018. " We expect 10 percent growth at Nis airport this year as well, up to 380,000 to 400,000 passengers, and in June in Kraljevo we will open the airport "Morava", where we expect about 20,000 passengers in this and more than 100,000 next year, "she said.