Mihajlovic: Trade Union is a partner in railway development
Thu, 04/04/2019 - 13:00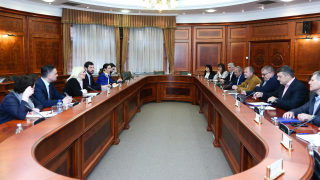 Deputy Prime Minister and Minister of Construction, Transport and Infrastructure, prof. Zorana Mihajlovic PhD, has talked with representatives of trade unions of all four railway companies - " Infrastructure of the Railways of Serbia", "Serbia Trains", "Serbia Cargo" and "Serbian Railways".

 
"We have done a lot of things in reforming the railways and solving issues that are important for employees, from the implementation of the social program, to the development of collective agreements. Together with trade unions, we will solve all the challenges that are in front of us, especially regarding the continuation of modernization of the railway and increasing the efficiency of railway companies, "Mihajlovic said.

 
She pointed out that the railways for the Government of Serbia are of strategic importance and that the state will continue to invest in the modernization of railways.
Representatives of railway workers at the meeting presented their problems and attitudes regarding the way of informing employees, developing a methodology for evaluating jobs by companies, and discussed investments in the regulation of road crossings.

 
Serbian government will form a special working group in charge of drafting the railway transport development plan in Serbia, which will include representatives of trade unions of the railway.

 
The meeting was attended by representatives of the Union of Railways of Serbia, Union of railway workers of Serbia, Union of executive services of Serbian Railways, Unions of Serbian Railways, Union of Workers of Infrastructure of Railways of Serbia, Trade Union of Serbia Cargo and Union of Journalists of Serbian Railways.