Mihajlovic: Transport community to help remove non-physical barriers at border crossings
Fri, 09/13/2019 - 21:43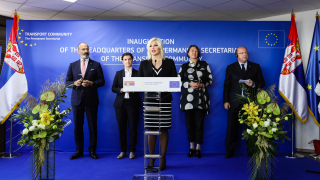 "This is a big day for Serbia and the whole region. The opening of the Transport Community headquarters in Belgrade will allow us to connect more and work together on projects, but what I will particularly insist on is the work on removing non-physical barriers and waiting too long at the borders, "said the Deputy Prime Minister and Minister of Construction, Transport and Infrastructure, prof. Zorana Mihajlovic PhD.
Deputy Prime Minister added that the Secretariat of the Transport Community in Belgrade also means that all Western Balkan countries will be closer to the European Union.
"We will be more interconnected and our citizens will live better and have a higher living standard. But, in addition to the enormous amount of work we all put into removing physical barriers to facilitate the flow of people and goods, we also need to work more on tackling non-physical barriers at the borders, as they undermine the competitiveness of economies in the region, given the excessive waiting time at border crossings, " said Mihajlovic.