Mihajlovic: Transport sector in Serbia in line with EU regulations, the biggest progress is in the railway sector
Mon, 06/03/2019 - 08:46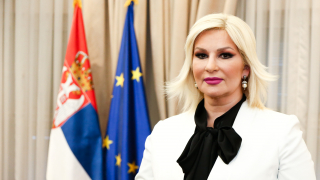 Deputy Prime Minister and Minister of Construction, Transport and Infrastructure, prof. Zorana Mihajlovic PhD., says that the European Commission's annual progress report for 2019 showed that Serbia has a good level of preparedness in the field of transport and that progress has been made since the previous report, especially in the reform of the railways.
 
"Although other topics in the European Commission's progress report on Serbia are somewhat overshadowed due to Kosovo issue, progress has been made in various areas of transport, primarily in the railways, but also in road, water and air transport. This shows that we have used the period from the previous report on the implementation of the reforms and that as a country we have come closer to the highest European standards in this field, on which we will continue to work, "Mihajlovic says. She adds that the report estimates that transport policy is one of the areas in which Serbia already has a good level of preparedness for EU membership.
In the EC report, among other things, it is stated that in 2018, Serbia adopted new laws on railways, on safety in railway traffic and interoperability of the railway system, thus achieving a high level of compliance with EU regulations on the establishment of a unified European railway area.
 
In the road transport, compliance is assessed as satisfactory, with the conclusion that laws in the field of freight and passenger transport in road transport are in line with EU regulations, and that in several areas, domestic regulations are additionally aligned with the European ones.
A high level of compliance with EU regulations is present in regulations related to inland navigation in water transport. It is emphasized that river information services (RIS) are operational and highly interoperable with the systems of EU member states and are improved by setting up navigation systems on the Danube. In air traffic, Serbia has a good level of compliance with EU regulations. Significant progress has been made in the implementation of the Agreement on the Establishment of the European Aviation Area, and regulations in the field of air traffic safety are additionally aligned with the European one.
Concerning Negotiation chapter 21 - Trans-European networks, which, in addition to transport, covers both the fields of energy and telecommunications, the EC report concludes that Serbia is moderately prepared. Serbia is actively participating in the Connection Agenda of the Western Balkans six, and further progress has been made in implementing reforms related to the integration and continued harmonization of legislation in the field of interoperability. Considering that Belgrade has been chosen as the seat of the Secretariat of Transport Community, Serbia is expected to continue its support in order to ensure the conditions for smooth functioning.