Mihajlovic: Twelve new airlines for faster development of Southern Serbia
Tue, 04-02-2019 - 09:43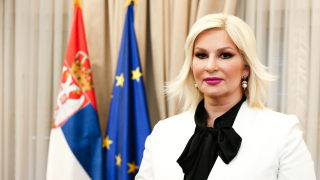 Deputy Prime Minister and Minister of Construction, Transport and Infrastructure, prof. Zorana Mihajlovic PhD., said today that the goal of introducing 12 airlines of public interest from Nis airport is the faster development of Southern and Eastern Serbia through connectivity with economic centers in Europe.

"The lines of public interest will connect 10 less developed districts in Serbia with the most developed parts of Germany, Austria, Italy, but also with our diaspora. It is estimated that in the European regions that are covered by new lines live about 1.2 million Serbians, "said Mihajlovic on TV Prva.
 
She said that the lines were introduced in accordance with the Law on Air Traffic, the decree adopted by the Government, that the carrier was selected on the international tender and that everything was done in the most transparent way. "There are lines of public interest in Europe everywhere, there are 30 lines of public interest in France, and 10 in Croatia for example," she said, adding that for the costs of functioning of these lines five million euros were provided in the budget.

Deputy Prime Minister noted that we are talking about regular flights, not charter flights, and that Nis airport was chosen as a destination, since not only Nisavski district, but the whole region of Southern and Eastern Serbia, has an average GDP at the level of less than 75 percent of Serbia's overall GDP.
 
She said that the introduction of these lines will also affect the development of Nis airport, which will have about 380,000 passengers this year and next year it is expected to have about 500,000 passengers. " The most important thing is that our airports meet all the requirements regarding the safety of air traffic, and it is certain that the introduction of new lines and other things, will improve all airport services," she added.