Mihajlovic: The value of infrastructure projects in Serbia is 14.5 billion euros
Mon, 07-15-2019 - 09:58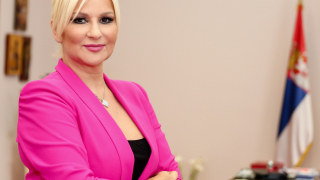 Deputy Prime Minister and Minister of Construction, Transport and Infrastructure, prof. Zorana Mihajlovic PhD., said in an interview for Reuters Agency that the total value of infrastructure projects that Serbia is implementing amounts to 14.5 billion euros and that investments in this area will be an important driver of economic growth in the coming years.

Mihajlovic said that PR China is an important partner of Serbia, that invests in infrastructure and that the value of ongoing infrastructure projects with that country is about five billion euros.

"New investments in infrastructure are important to ensure economic growth in the coming years as well. About eight billion euros is the value of infrastructure projects that we plan to implement in the med term, " Mihajlovic said.

As one of the priority projects, Deputy Prime Minister referred to the reconstruction of the railway line from Belgrade to the border with Macedonia, where the estimated value of the project is about 600 million euros, while the Chinese company CRBC is involved in the process of preparation of project-technical documentation.

She added that Serbia will work with the Russian Railways on the construction of a new dispatch center on the railway, worth close to 150 million euros, and that the plan is to continue the reconstruction of Bar railway line, whose estimated value is about 400 million euros.

"Turkish companies will work with us on the construction of the Belgrade-Sarajevo highway, and the Azerbaijani" Azvirt "is interested in an important project for Western Serbia, the construction of Ruma-Sabac highway and the fast road Sabac-Loznica," Mihajlovic said.