Mihajlovic visited the largest infrastructure site in the Great Britain and Europe
Thu, 02/07/2019 - 10:41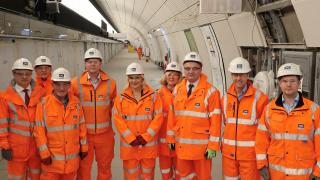 Deputy Prime Minister and Minister of Construction, Transport and Infrastructure, prof. Zorana Mihajlovic PhD, visited the largest infrastructure site in Europe during the official visit to Great Britain - the construction of the CrossRail subway in London.
"We had the opportunity to visit an imposing construction site, a 30-meter railway beneath London. For comparison, this project is worth more than 15 billion pounds, more than all infrastructure projects that we implement in Serbia. It was important to see not only the construction of a subway, but also how the site was organized - from design to realization. Although they have similar problems during the execution of works as we have, we have established standards that we can certainly apply in Serbia - from security to organization of the construction site, "Mihajlovic said.
The Deputy Prime Minister spoke to British colleagues about training of engineers and workers at the site.

 
"A good example that British have is a construction academy, where all contractors are trained - from the simplest to the most complex jobs. We need to think about that too, because if we want to implement large infrastructure projects, we must have trained people for it, "she said.  
Miroljub Jevtic, director of the "Infrastructure of the railways of Serbia", said after visiting the construction site CrossRail, the future "Elisabeth Line", that he had the opportunity to exchange experiences with his colleagues from London, comparing their activities with what is done in Serbia.
 

"A really impressive visit. We were at the construction site of a 118 km long railway line. We talked with British engineers, exchanged impressions and devoted special attention to the topics of design, and in particular to conceptual projects, control and management of this whole system, "said Jevtic. 
CrossRail is a 118 km long subway railway, whose construction began in 2009. Future "Elizabeth Line", worth 15 billion pounds, will have 24 trains operate within one-hour span in both directions, which will reduce the pressure on existing metro lines, increase capacities and improve connectivity. It is estimated that 200 million passengers will use CrossRail annually and that transport revenues will exceed 800 million pounds only in the first year of use.