Mihajlovic visits works on the highway near Ruma: All construction sites work, next to health, survival of economy is a priority
Wed, 07-29-2020 - 12:21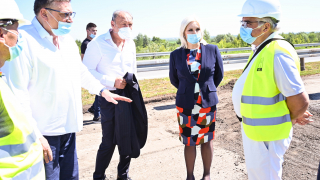 Deputy Prime Minister and Minister of Construction, Transport and Infrastructure, Prof. Zorana Mihajlovic, PhD, visited today with the director of PE "Roads of Serbia" Zoran Drobnjak the works on the rehabilitation of the highway on the section Ruma-Pecinci and on that occasion said that in the previous two years over 5 billion dinars were invested in road maintenance in this part of Serbia.

Mihajlovic pointed out that she visits construction sites in Serbia almost every day so that citizens can see that constructin workers are working, whether it is about projects in road, railway, communal or water infrastructure, but also to provide support to builders and everyone who works.

"Every hard-working person is important for our economy. The epidemic is affecting the whole world and will continue, and that is why it is important that we do everything to preserve our health and be able to work. Nothing can happen. "Today, 5,500 workers work on construction sites, there are no infected people, with good organization and care we manage to maintain projects in the agreed dynamics," she said.

Mihajlovic added that the value of the works for the section of the highway from Sremska Raca to Pecinci is 1.5 billion dinars and that they are large investments in the road economy, because good infrastructure is a precondition for people to stay and live in Serbia.

Zoran Drobnjak stated that work is currently being done on the section from Ruma to Pecinci in the length of 13.1 km, and that according to the dynamics, the works will be finished in three months.

"Then the second section will be built in the length of 13.75 km from Ruma to Sremska Mitrovica. Drainage, fencing and asphalt removal works are currently being carried out on this section. Then, the repair of the surface and asphalting will follow ", said Drobnjak.

On behalf of the contractor, company "Integral", the director of the branch, Mitar Vukovic, addressed the media and said that this company has been operating in Serbia since 2013.

"We have experience of working in Serbia. This section is a logical continuation of the works on the part of the highway from Batrovci to Kuzmin, and I expect that the works here will be finished on time, if not before the deadline," said Vukovic.