Mihajlovic: We are building a new center for the Serbian railways in Zemun
Mon, 09/09/2019 - 14:51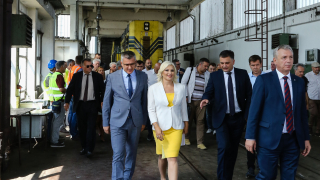 Deputy Prime Minister and Minister of Construction, Transport and Infrastructure, prof. Zorana Mihajlovic PhD., attended today the beginning of the works on construction and modernization of Technical - Passenger Station Zemun, and emphasized that this is an extremely important project for Serbian railways, since the new station will contribute to faster, better and more efficient maintenance of trains.
 
Mihajlovic said that until 4, 5 years ago, railroads were talked about with nostalgia and sorrow, while today it is strategically important for Serbia.
"By the end of 2020, we will be reconstructing 800 km of railways, building Belgrade-Budapest high-speed railway, investing 200 million euros so far in new trains and another 100 million will be invested. Our goal is to make citizens want to get on new trains and use the railways," she said.

Mihajlovic thanked the municipality of Zemun, because without the participation of local self-governments such projects cannot be realized, and she urged the directors of railway companies to be even more efficient.

"The country is making money, billions of euros are being invested in rail transport, we are investing in people and equipment, but we also want every railway station to be as modern as the trains that run through them. We still have a lot of work to do, but the picture of the railway today is much better than it was a few years ago," she concluded.
Jugoslav Jovic, director of "Serbia Train", said that this project is being implemented thanks to the assistance and initiative of the resor ministry, and that with the support of the Serbian Government, a loan from the EBRD of EUR 52 million was secured.

"Thanks to Deputy Prime Minister and the whole team for recognizing the needs of the railway sector. The project we are starting today is worth 52 million euros and the deadline for completion is 27 months," said Jovic.

Dejan Matic, Mayor of Zemun, pointed out that the unique policy of the Government of Serbia, the City of Belgrade and city municipalities is delivering results and that this project will include Zemun on the map of the state's transport infrastructure.
"In addition, we are building a dock for international ships in Zemun, and next year, as promised, the citizens of Batajnica will receive a loop and connection to Belgrade bypass," Matic said.
Stojan Colakov, in front of Energoprojekt, the contractor, said that the goal of this project is to increase the capacity for quality and adequate maintenance of trains, and added that the works will be completed within the deadline.