Mihajlovic: We are constructing the first fast railway track in Southeastern Europe
Fri, 08-09-2019 - 13:09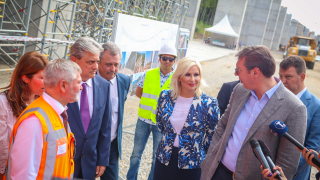 Deputy Prime Minister and Minister of Construction, Transport and Infrastructure, prof. Zorana Mihajlovic PhD., said today that the modernization of the railway would enable Serbia to become an unavoidable route in railway traffic and that joint projects with Russian Railways would contribute to this goal.

"Serbia and Russia have not only friendly relations, but also excellent economic cooperation, especially in the field of ​​infrastructure. The evidence for this is the fact that together we are implementing the largest railway project in Europe, construction of the section from Stara Pazova to Novi Sad, which will be the part of the first high-speed railway in Southeastern Europe," Mihajlovic told RTS.

She stressed that it is important for Serbia to modernize the entire railway on Corridor 10 and to better connect to the South with Northern Macedonia and Greece.
"We are also preparing new projects to work with Russian Railways. The construction of a new dispatch center on the railway will begin next year, and in the coming months project documentation will be prepared for the continuation of the reconstruction of Bar railway, from Valjevo to the border with Montenegro, where we expect works to begin in 2021," she said.

Mihajlovic and Serbian President, Aleksandar Vucic, visited the construction site of Viaduct Cortanovci today, on Stara Pazova - Novi Sad section, and was also attended by Prime Minister of the Provincial Government, Igor Mirovic and Russian Ambassador to Serbia, Aleksandar Bocan-Harchenko.

Modernization and construction of the two-lane Stara Pazova-Novi Sad railway, including the construction of Cortanovci tunnel and viaduct, which is being carried out by the Russian company RZD International, and the project is funded with the Russian loan for the modernization of Serbian railways.
Cortanovci tunnel and viaduct are one of the largest investments and infrastructure construction sites in this part of Europe. This viaduct will be 2.9 kilometers long and will carry 59 pillars, the highest of which will be 28 meters. In addition to the viaduct, two tunnel tubes, each with one track, each 1.2 km in length, are being constructed in this section.

Work on the construction of Viaduct Cortanovci and tunnel began on August 11th, 2017. The deadline for completion is 52 months and the value of the works is $ 337.6 million.