Mihajlovic: We are finishing three highways, construction of three new ones is about to start
Tue, 04-02-2019 - 10:23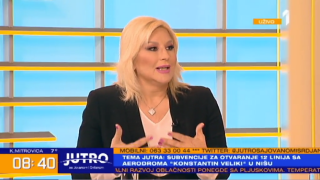 Deputy Prime Minister of the Government of Serbia and Minister of Construction, Transport and Infrastructure, prof. Zorana Mihajlovic phD., said today that three highways will be completed this year and the construction of three new highways will start.
"Before the summer and summer tourist season we will have three highways completed, on the Southern and Eastern corridors of Corridor 10, as well as 103 kilometers of highway on Corridor 11 from Obrenovac to Preljina. Also, by the end of the year, the section from Surcin to Obrenovac will be completed, and we will have a total of 120 kilometers of the highway from Surcin to Cacak, "said Mihajlovic on TV Prva this morning.
She announced that in April, near Lucani, construction on the section of the highway to Montenegro from Preljina to Pozega will start. "In addition, in June, the start of works on the first section of the Belgrade-Sarajevo highway, from Sremska Raca to Kuzmin, is planned, and in 2019, the construction of Moravian Corridor and Pojate-Preljina highway will begin," said Mihajlovic.