Mihajlovic: We are investing more than 3 billion euros in communal infrastructure
Thu, 07-30-2020 - 09:38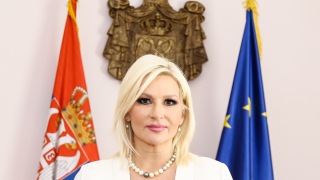 "The state will invest more than 3 billion euros in communal infrastructure." In 70 cities and municipalities, we will build water factories, sewage networks, wastewater treatment systems," said this morning Deputy Prime Minister of the Government of the Republic of Serbia and Minister of Construction, Transport and Infrastructure, Prof. Zorana Mihajlovic, PhD.

Speaking as a guest on the morning program of TV Happy, she stated that investments in communal infrastructure are huge, and that in addition to the project with Chinese partners, 70 million euros are being invested in 70 local governments in Belgrade and Batajnica.

Deputy Prime Minister also spoke about the construction of apartments for members of the security services, saying that close to 4000 apartments are currently being built, as well as that the construction of another 4000 will begin soon.

"The apartments that are currently being built in 6 cities will be completed by March next year at the latest. In Novi Sad and until the end of this year . "Domestic companies are working on this project, which is of great importance," she said.

"I also sent an initiative to the Prime Minister to make these apartments available to health and education workers, who have not been able to buy apartments on the market in the previous 10 to 15 years, and these are people who work for the country," she said.

Mihajlovic told all contractors and workers to respect precautionary measures and wear helmets and protective equipment, because a second of inattention can cost us all a lot.