Mihajlovic: We are starting the construction of high speed highway Ruma-Sabac-Loznica
Tue, 11-19-2019 - 14:43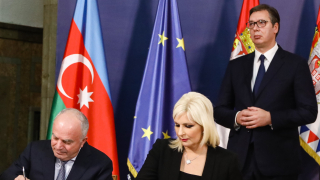 Deputy Prime Minister and Minister of Construction, Transport and Infrastructure, prof. Zorana Mihajlovic PhD, signed today, in the presence of President of Serbia, Aleksandar Vucic, a commercial contract for the construction of the highway and Ruma-Sabac-Loznica highway, with Azvirt company in Azerbaijan.

"Our vision is that Serbia is intersected by highways and connected to all its neighbors, and the project for which we have signed a contract today is important for achieving that goal. The first part of the road, from Ruma to Sabac, will be built as a six-lane highway, the second part, from Sabac to Loznica, as a four-lane express road, and a new bridge over Sava will be built," Mihajlovic said on the occasion of signing the contract.
The value of the commercial contract is 467.5 million euros, and the total length of Ruma-Sabac-Loznica highway is 77 kilometers.

Mihajlovic emphasized that this road will connect close to 600,000 people in Macvan and Srem districts and is important for connecting Podrinje and Western Serbia with Vojvodina, but also for connecting this part of Serbia with the region, and especially Bosnia and Herzegovina.

On behalf of the contractor, Azvirt, the contract was signed by the executive director of this company, Kamil Aliyev.
Project for the construction of Ruma-Sabac-Loznica highway is divided into three sections. The first section is Ruma-Sabac highway, from the E-70 highway (Ruma loop) to the bridge over Sava river in Sabac, 21.14 km long, for the speed of 130 km / h. The second section is the bridge over Sava River in Sabac, 1,327.5 m long, including ramps. The third section is the fast road from Sabac to Loznica, 54.58 km long, at a speed of 100 km / h.